---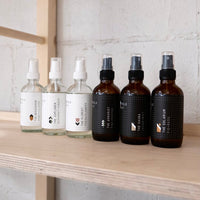 Field Kit room fragrance was designed to provide a mist of scent wherever you'd like it. Spritz a little on your bedding, your clothes, or even on your dog's bed.
Ingredients
Perfumery alcohol
Fragrance
Distilled water

Size
3.4 fl oz | 100 ml
Scents
The Beekeeper - wild honey | orange | clover | musk
Wild meadows, abuzz with bees. The sweetness of honey blends with the crispness of clover, underlain with white musk.
The Explorer - bergamot | cedar | ginger | basil
Travels to a far off exotic land. Tart bergamot plays with the sharpness of ginger, and the grounding scent of basil.
The Florist - tulip | lilac | jasmine | grass
Fresh flowers wrapped in brown paper at a street market. Crisp tulip; innocent lilac; rich jasmine; sweet grass.
The Solarium - fig | mint | basil
Sunlight streams in to touch the leaves of a fig tree, ripe with fruit. The earthy, stickiness of fig blends with the herbaceous scent of basil.
The Arborist - pine  |  cardamom  |  pepper  |  lime