---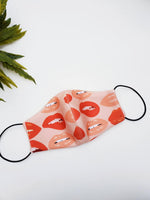 Sale
-double-layered fabric with adjustable ear loops and nose wire
-the outer layer is made of high grade polyester fabric while the inner layer is made of neoprene fabric
-with pocket filter (you can insert paper towel, dried baby wipes or coffee filter for added protection)
-water-resistant so it blocks the dispersion of droplets propelled by coughing, sneezing or "speaking moistly"
-washable and reusable
Measurement: 
Fits Small to Medium
5" (nose to chin)
8-8.5" (width excluding earloop)

*Actual size may slightly vary due to design and other factors. 
Care Instructions:
Machine wash in a delicate setting or hand wash with soap in warm water. Hang to dry. Steam as needed. 
IMPORTANT NOTE: Our masks should not be placed on young children under age 2, anyone who has trouble breathing, or is unconscious, incapacitated, or otherwise unable to remove the mask without assistance.
Sale items are final sale.