---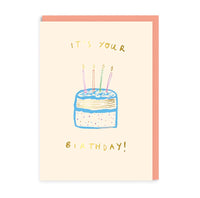 Send a sweet birthday wish with this simple yet elegant greeting card featuring a gold foiled birthday cake! Celebrate your friends and family with this fun, quirky card that makes every recipient feel special.
Our cards are produced in the UK from sustainable sources and made with 280gsm card for an added luxurious feel and superior print quality, each card is accompanied by a 100% recycled envelope. All cards are blank inside for you to add your own personal touch. 
Details:
Designed by Danielle Rhoda

Size: A6 (105 x 148mm / 4.1 x 5.8 inches). - that fits as a standard sized letter in the UK mail.

Produced from sustainable sources and/or recycled materials

Blank inside for your own message.

Includes a 100% recycled envelope.

Made in the UK.